Volunteer
Otto Mock – Louisville Parks and Recreation Advisory Commission
Wakely Purple – The Little Loomhouse
Judy Cederholm – Louisville Muhammad Ali International Airport (SDF)
Carrie Murphy – The Kentucky Center for the Performing Arts
Bill Ellison – Speed Art Museum
Brenda Peterson—Kentucky Derby Museum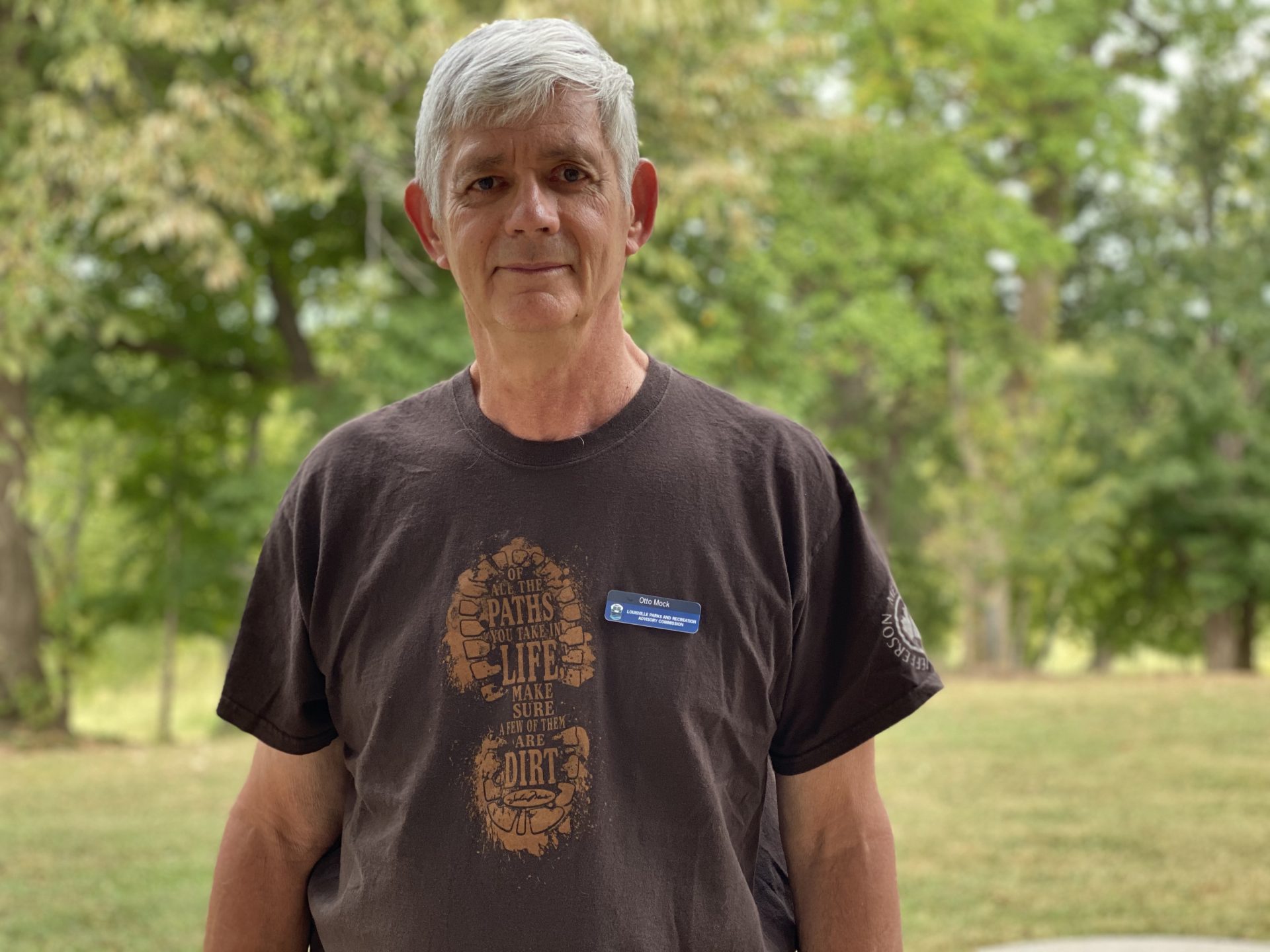 Otto Mock
Louisville Parks and Recreation Advisory Commission
Otto joined the Parks Advisory Commission in its inception in 2016 and immediately took a leadership role. His primary point of focus in the beginning was Jefferson Memorial Forest, one of the parks department's most high-priority asset. More than 20 years ago, Otto and his wife Sherry became the first volunteer trail rangers at JMF. Otto was one of the original Trail Team for the Jefferson County Memorial Forest, decades before there was an official volunteer program. He was instrumental in design and development of the trails in the Forest, including safety concerns due to his knowledge from years serving as a fireman at fire chief at several local departments. Last year at JMF, a small bridge crossing a portion of a well-traveled trail began to fall apart. This bridge was needed because a section of the trail became really muddy when it rained. Being in the middle of program season Forest staff were too busy to take on the job appropriately. Otto stepped in alongside another volunteer, and they completed the project quickly. He was so positive and is always willing to help make JMF a better place. When volunteers were approved to drive the gators for trail and forest maintenance projects several years ago, Otto, with his knowledge of training and safety in operating heavy machinery, took over training select volunteers on safe driving on the trails in order to move large rock and piles of earth and lumber for building bridges, water breaks, etc. on remote sections of the forest. He educated volunteers not just on how to operate the gators, but also on load height and weight versus hill angle so they could be operated safely. Otto has attended every Parks Advisory Commission meeting since the body was organized in August 2016. Additionally, during planned hikes at Jefferson Memorial Forest, he is a familiar sight, often educating young hikers on animal tracks, feathers, plants and trees before, during and after hikes. Jefferson Memorial Forest and Louisville Parks and Recreation are so very lucky to have him as part of our team. He is an invaluable resource - and one heck of a great guy.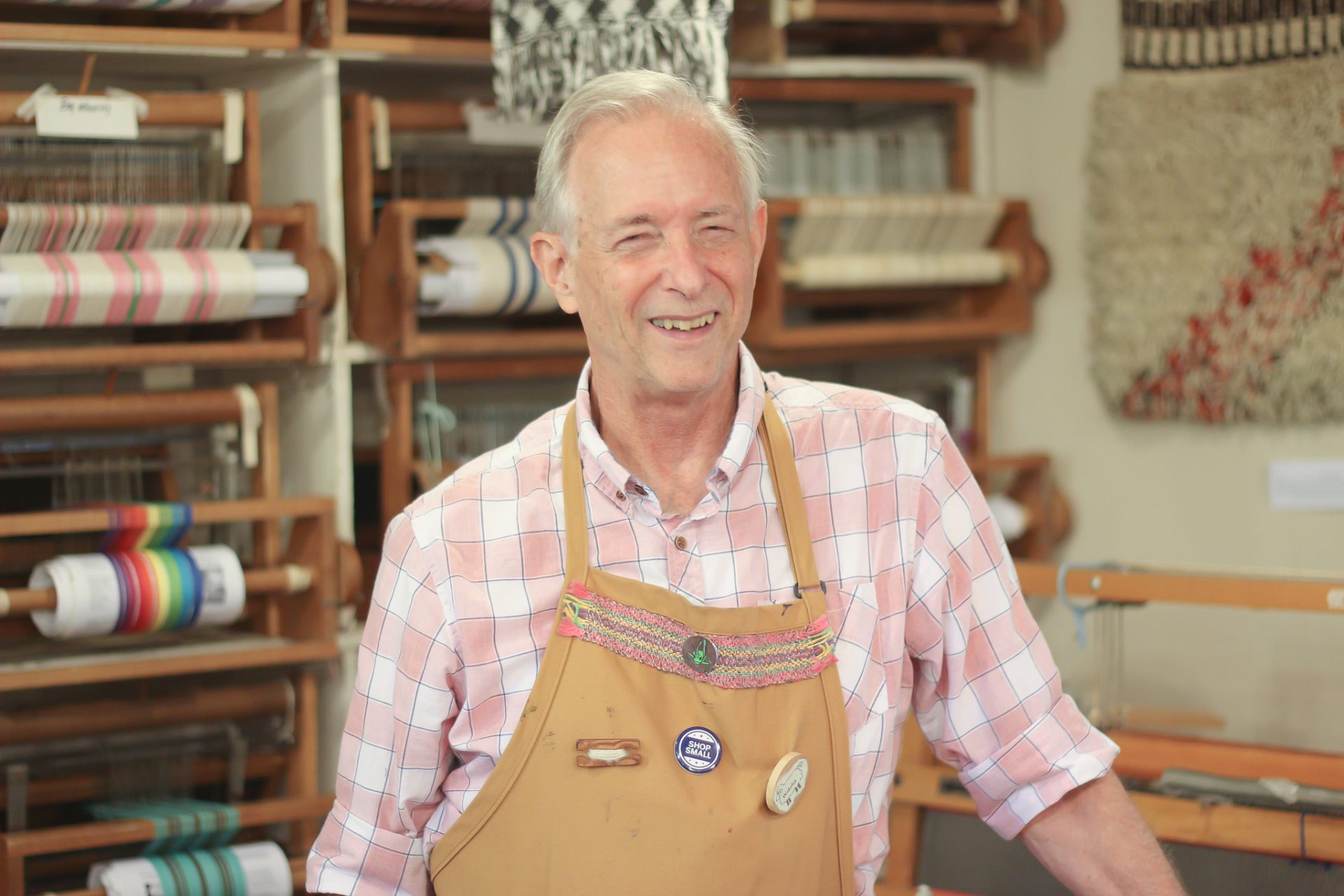 Wakely Purple
The Little Loomhouse
Wakely Purple has volunteered at the Little Loomhouse for over ten years, even stepping in as Treasurer on the Board of Directors when one was needed. Although his job is to assist guests in the weaving studio, Mr. Purple will take out the garbage and bring our garbage cans in every Wednesday of his shift. During our busy season, he will frequently stay until the last guest is gone, even if that is an hour after his scheduled shift has ended. On snowy days, I can count on Mr. Purple to shovel and clear snow and ice before we open to safely greet our visitors. In addition to his volunteerism, Mr. Purple established an education fund that he donates to every year to ensure visitors can participate at the Little Loomhouse regardless of their ability to pay.
Mr. Purple is excellent with our guests giving individualized attention and extra aid to those wanting to learn about weaving. One particular incident comes to mind when a family was visiting during the summer and one of the grandchildren got stung by a bee. Mr. Purple quickly grabbed a cotton ball and dabbed a little alcohol on it to pat the crying child's arm. As he did so he spoke calmly, comforting her. She quickly cheered up. When I spoke with him later about it he said he knew there was little we could do for a bee sting but most of the time young people just need to feel comforted and acknowledged.
Mr. Purple is very encouraging to our guests, other volunteers, and paid staff. He frequently praises and encourages guests to try their hand at weaving. His dedication, going the extra attitude, and generosity is an inspiration to our volunteers, staff, and Board of Directors. His kindness and excellent service to our guests is an inspiration.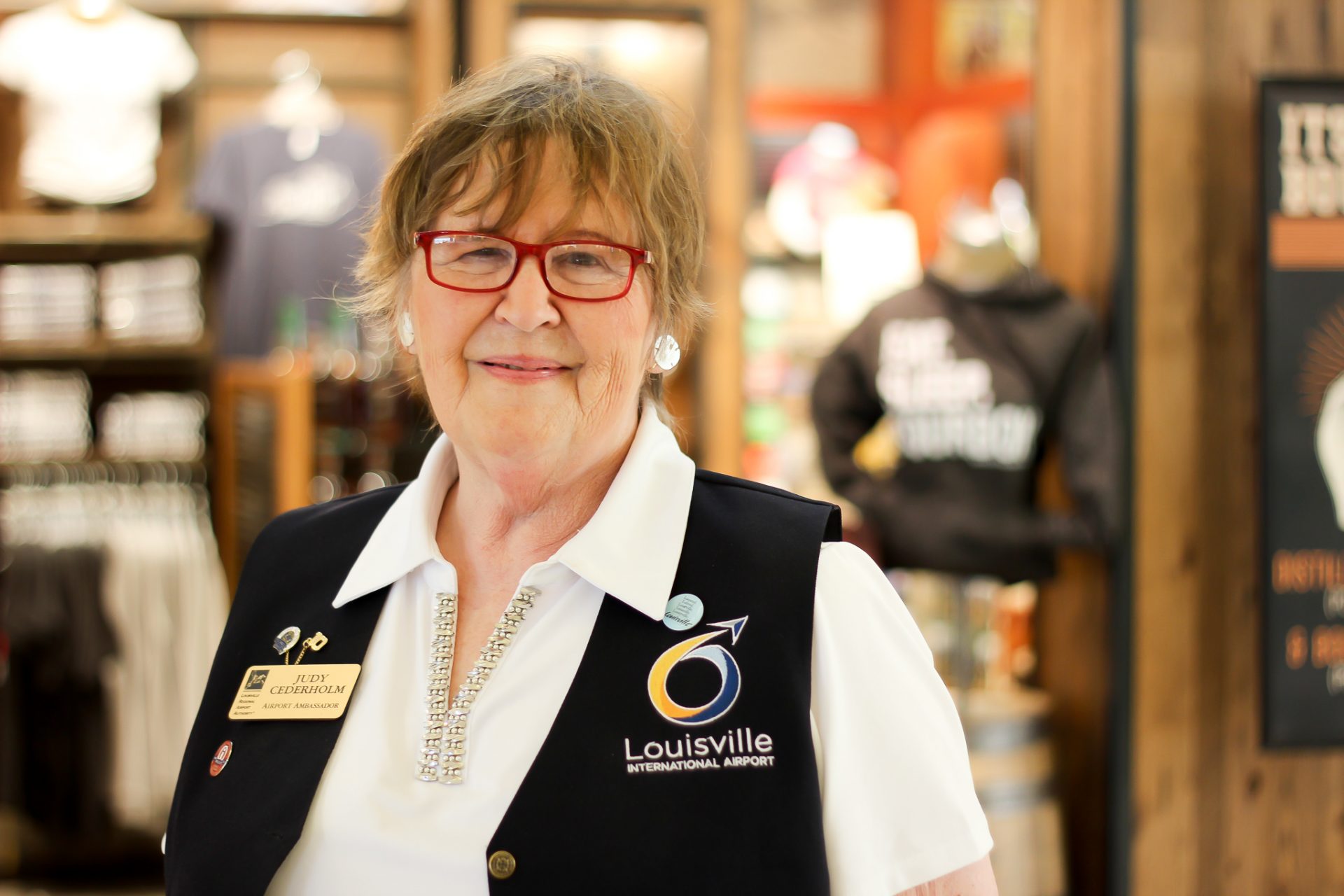 Judy Cederholm
Louisville Muhammad Ali International Airport (SDF)
Judy has been with the Ambassador Program for almost 15 years and has volunteered over 3,500 hours. This year, she has worked 62 shifts (248 hours) in the Information Booth as well as attended nine additional trainings and meetings. Judy makes a point of attending the meetings, exploration trips and training sessions offered because she wants to be able to do the best she possibly can as an Airport Ambassador. She always encourages other volunteers to make time to attend these activities because it helps them grow as Ambassadors.
Volunteering is second nature to Judy. She has spent most of her life helping other people and enjoys seeing others grow in their volunteer experiences too. Judy is very proud of the Airport Ambassador Program and is invested in seeing its success every year. She frequently comes up with new ideas of places for the group to visit or training to implement that would help everyone become more knowledgeable and better serve our city's guests throughout the year. Even though Judy has a longer commute than any of the other Ambassadors (from Bardstown to Louisville), she is willing to come and help last minute as needed. Her commitment to the Program is inspiring to other Ambassadors as well as staff.
One winter evening, a frantic traveler arrived on a flight that was already delayed. By the time she arrived to claim her luggage, she realized that she left her cell phone in the ladies' room on the other side of security. Her cell phone case contained all of her contacts, identification, credit cards and money. She arrived at the Information Booth frazzled, upset and in a near panic. Judy, always being calm and collected, took the time to go through security, find the phone and bring it back to the traveler. She was so grateful and appreciative of what Judy did that she cried tears of joy. This is one example of the numerous times Judy has gone above and beyond to help travelers retrieve forgotten items, and make sure they receive a compassionate, helpful welcome to the city.
Airport staff and her fellow Ambassadors regularly notice Judy's insightful, adventurous nature. She is an expert when it comes to greeting arriving guests, offering information on things to do, places to eat, soothing frayed nerves and calming weary travelers. From her eclectic aura, expansive knowledge and sheer unmitigated kindness, Judy is truly an asset to the Airport Ambassador Program and the community.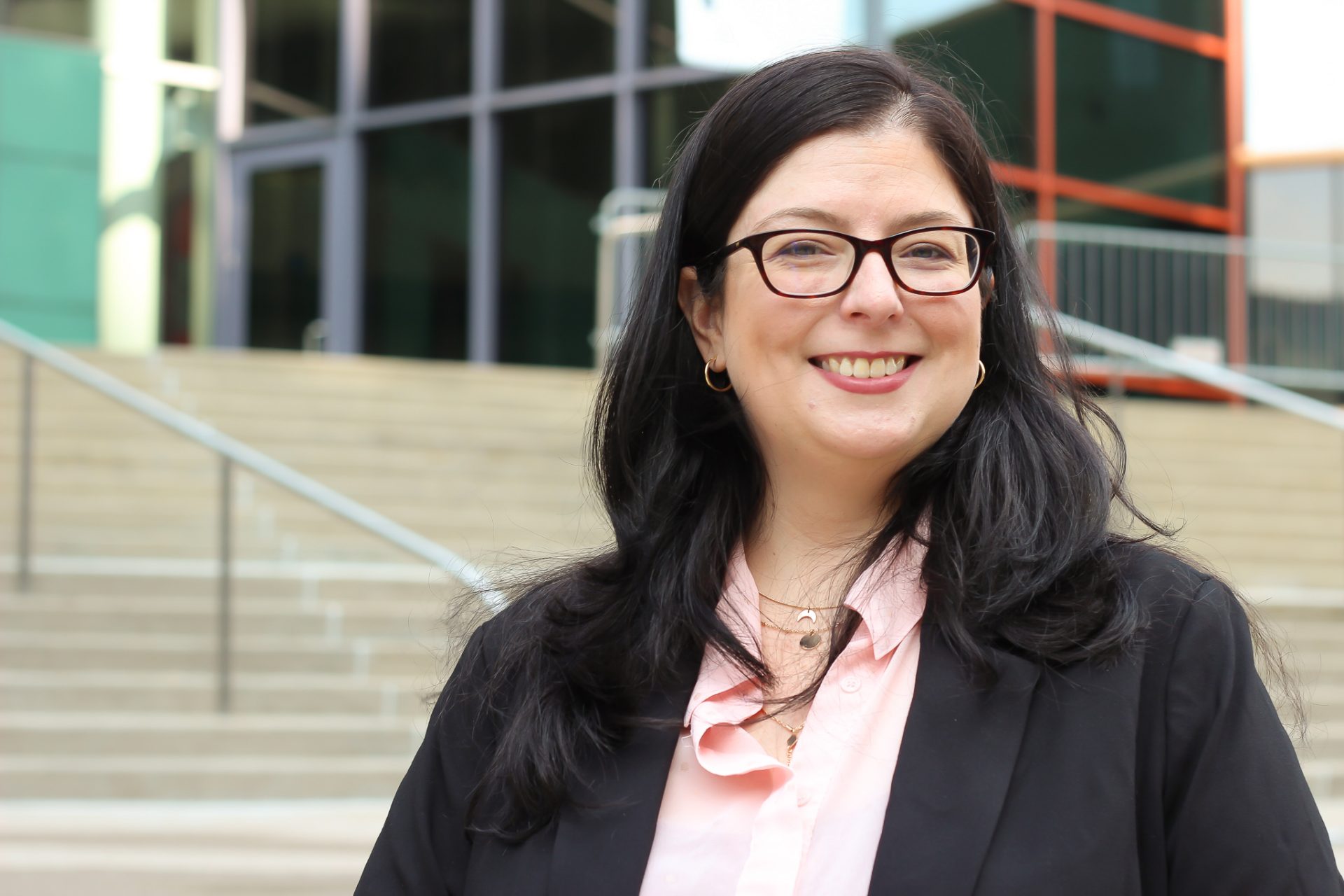 Carrie Murphy
The Kentucky Center for the Performing Arts
Caption Theater is a service for people who are deaf or who have hearing loss. In Louisville, Caption Theater has predominantly been a service utilizing very specific software and a LED sign. It requires a Volunteer Captioner to enter script dialogue, preview the performances and edit the script to match the actual dialogue used in the play. At a captioned performance, the Volunteer the scrolls the script to the LED sign in time with the actor's delivery. Carrie has spearheaded an effort to move the service to a less costly and more volunteer-friendly format involving PowerPoint and a television monitor. This will allow for more performing arts organizations in Louisville to offer captioning without the significant cost associated with the current equipment and software. With her efforts, captioning will be much easier for groups to offer and it will open up additional arts events for the population of people who need the service. All of the experienced captioners in the program are expected to work with new captioners to assist in their training and development. However, Carrie has a unique way of putting these trainees at ease about a very challenging role. Carrie loves what she does, and it shows in how she tackles every script and performance with excitement. In her four years with the Caption Theater Volunteer program, Carrie has given 722 hours of service. When you consider her volunteer assignments are typically on average about 5-7 events each year, you realize how much time and dedication she gives each assignment. Carrie is always positive, upbeat and willing to take charge of a situation to ensure that the patrons have the very best experience when attending a performance using the Caption Theater service.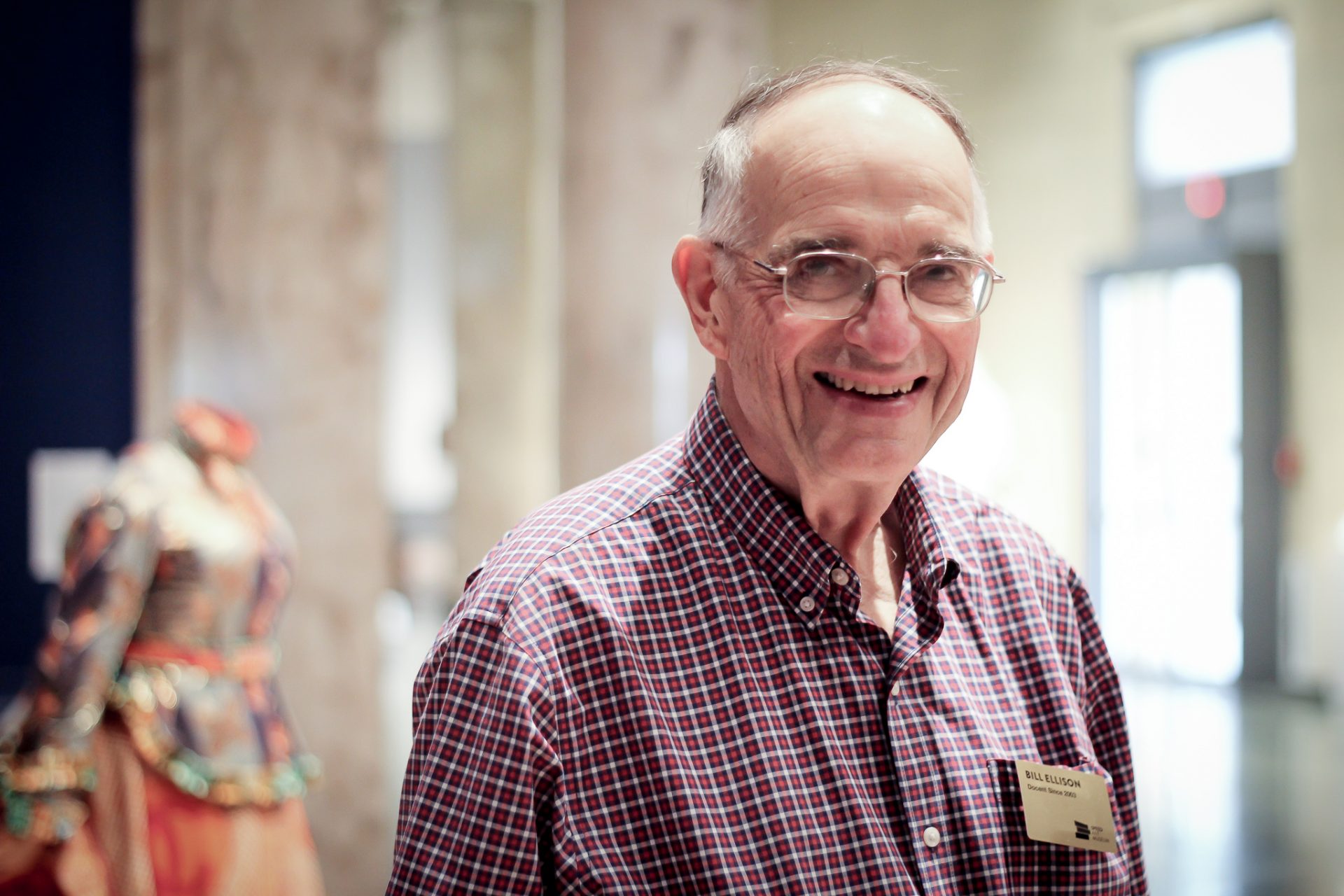 Bill Ellison
Speed Art Museum
Bill recently retired from serving as an Active Docent at the Speed Art Museum. Bill's requirements as a Docent were to attend 9 training sessions per year and to lead 20 tours per year. He has consistently led between 25 and 30 tours each year in the 3 1/2 years since the Speed re-opened. He was also often the first person to respond when we sent out an urgent "call for help" to fill unfilled tours.
In addition to leading tours, Bill also served as the Editor of Docent Talk, the Docent's monthly newsletter. He solicited articles from his fellow Docents, edited their work, and created the layout for the newsletter each month.
Bill is everything that you would want a Docent to be: he's smart, funny, and an engaging storyteller. He also believes strongly in his work as a Docent at the Speed, and through his tours embraces our mission: "At the Speed Art Museum, we invite everyone to celebrate art forever." Bill loves touring guests of all ages--whether they are first graders or adults--and he always strives to make sure that they leave the Museum loving art and the Speed as much as he does. Bill has decided to become an Emeritus Docent, which means that he will give up actively touring next year. We will miss his presence in the galleries, but we know that he will continue to always remain a Speed Docent at heart!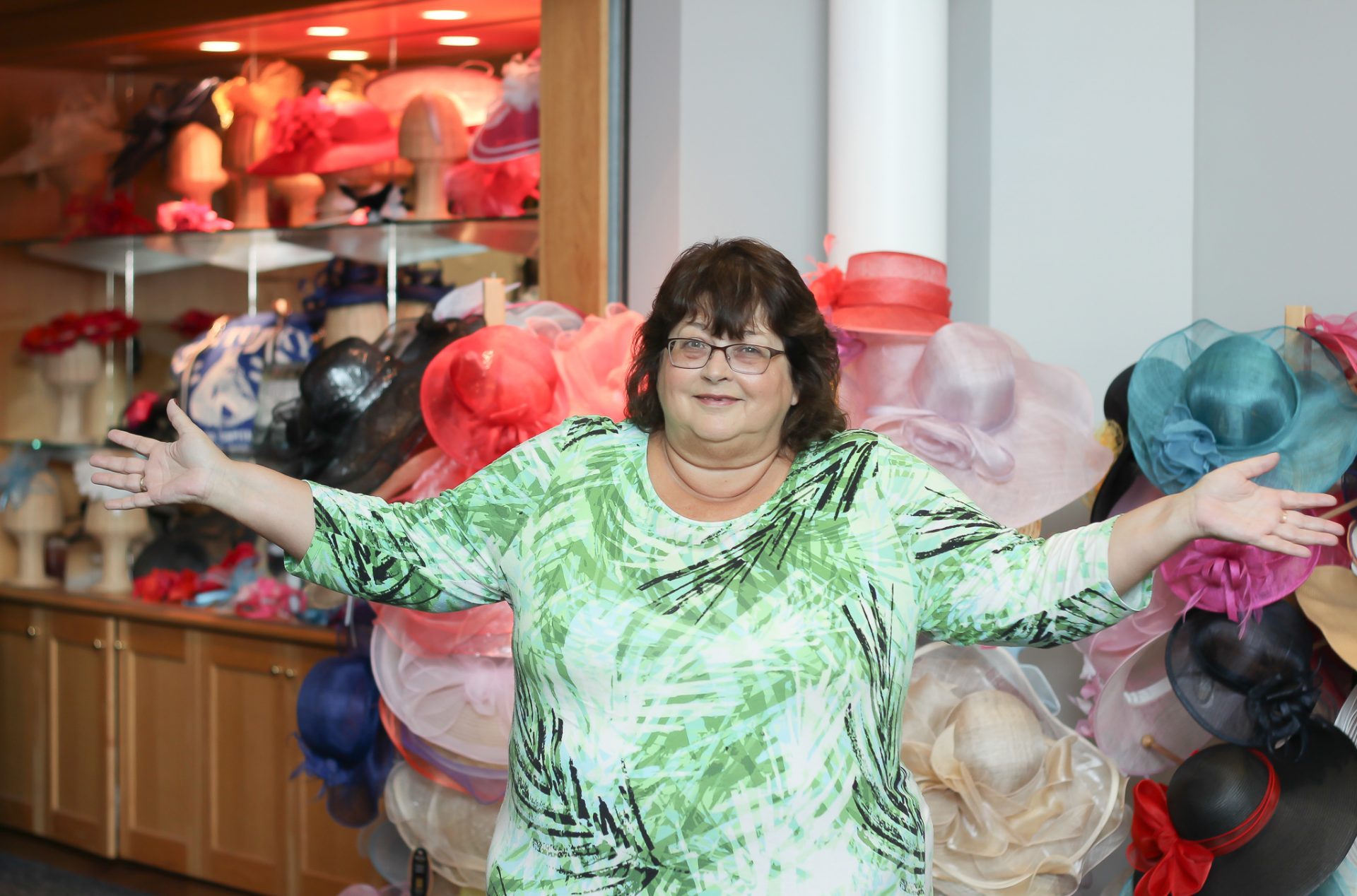 Brenda Peterson
Kentucky Derby Museum
With the unusual controversial outcome of Kentucky Derby 145 it seemed as if everyone had an opinion and felt they needed to be heard. Knowing that overall the Sunday after each Kentucky Derby is one of the largest visitation days for KDM, Brenda took it upon herself to be at the Talk Derby To Me desk which acts as an information station positioned in our front lobby from the moment our doors opened at 8:00a. While there, she heard countless recaps of the situation and maintained professional yet compassionate. Were it not for the fast thinking of this seasoned volunteer mayham may have ensued.
Joining our volunteer ranks in 2007 Brenda quickly became involved on our Executive Board - she brings with her a whole arsenal of skills including the uncanny ability to encourage, recruit and sustain our unpaid work force. If asked our group would offer that she leads by example. Not asking anyone to take on a task that she, herself, would not.
Upon hearing the devastation of wildfire in Bonsall, ranch hands attempted to rescue about 500 horses from the San Luis Rey Training Center when the Lilac Fire began about 45 miles north of San Diego. "How can we help?" were the first words out of Brenda's mouth. And the second sentence? "We just have to help." With these words pulsing through her veins like the fire in the forest, she quickly organized a donation drive working directly as a liaison between our groups desire to offer assistance and those who most needed our help.