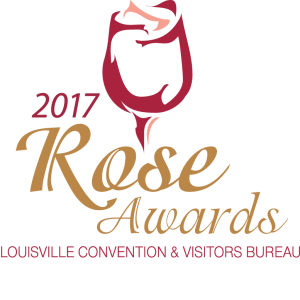 The ROSE Awards, which stands for Recognition of Service Excellence, are given to the unsung heroes of our industry who have committed themselves to a career in tourism. Awards are offered in the categories of Accommodations, Attractions, Behind the Scenes, Dining, Transportation and Volunteers.
We recognize service excellence because hospitality is critical for our city, which attracts 12.7 million visitors annually, provides thousands of jobs and contributes nearly $1.4 billion to our city's economy every year. When our hospitality employees roll out the red carpet for our visitors, they come back again and again. That's worth celebrating.
The ROSE awards will be held on Friday, October 13, 2017 at the Louisville Marriott Hotel, with a reception from 11:00 a.m. – 12:00 p.m. and the awards presentation from 12:00 p.m. – 1:30 p.m. All nominees are invited to attend the ROSE awards with a guest of their choice, and organizations that nominated the star employee are encouraged to attend to support their nominee.
TICKETS
Please contact us to make reservations to attend the 2017 ROSE Awards, purchase tickets below or contact Jordan Skora at 502-560-1469. Tickets are $40 each, $400 a table, or $320 for a nominee table.
Single Tickets – $40 per ticket, per person
Full Table – $400 per table of ten (10)
ROSE Award Nominee Table – $320 per table
AWARDS
The Recognition of Service Excellence (ROSE) Awards are given to exemplary front-line employees in the hospitality industry in the areas of attractions, accommodations, dining, transportation, volunteer and behind-the-scenes.
The Dan Mangeot Memorial Award is given to an individual who has made significant contributions to the advancement of tourism and has a history of supporting the hospitality industry throughout his/her professional lifetime.  This 2017 winner is Beckki Jo Schneider, President & Owner of Derby Dinner Playhouse.
The Ambassador Awards are given to individuals who have significantly contributed to the Bureau's sales initiatives by helping bring convention business to Louisville.
The Unity Awardrecognizes outstanding achievement in the promotion of unity in the hospitality industry. This year's recipient is Sal & Cindy Rubino, owners of The Café.
The Partner of the Year Awardis presented to this year's most outstanding Louisville Convention & Visitors Bureau partner. This year's recipient is Chris Hartman of the Fairness Campaign.